This year, we're running a series of stories about our schools—we wanted to find out what they're focussing on and what makes each one unique. As we publish these stories, you can find them here.
We asked Barrhead Composite High School (BCHS) Principal Darcie Eamor the question: What is it about your school that makes you most proud?
Without any hesitation, she said, "It's all about the people. Our staff are so passionate and so committed to building relationships with kids, they truly take to heart that they are responsible for every student."
"This staff is so great at recognizing what students need and providing new opportunities for them. Our staff drive a lot of positive ideas—our job is to remove the roadblocks for them," said Eamor.
Dedicated staff
According to Associate Principal Prakash Raju, all staff members are committed to the school and the community of Barrhead. He says, "Many of our staff members grew up in Pembina Hills, and even attended school here."
"They not only take ownership in their job at the school, but also their community. It's home."
Several staff members travel to work at Barrhead Composite from other communities. "They are equally committed and invested in our students and the community of Barrhead," Raju says. "We see teachers staying after school with students who want to continue work from their COI (Course of Interest) class. Others stay after school to help students build a haunted house to entertain community members. Still others coach sports teams, staying late for practices and giving up weekends for tournaments. That's real dedication."
Junior High Courses of Interest
Many of the school's programs were actually created by the teachers in response to students' needs. One example is the Junior High Courses of Interest (COI). The program began a few years ago because the teachers recognized it as something that would benefit all students.
Offered once a week, Courses of Interest are blocks of time when students can choose from classes such as learner's permit prep, choir, World War analysis, comic book art, theatre makeup, sports talk, Magic School Bus style science exploration, or volleyball skills, to name a few.
"It's in these classes that teachers and staff members have opportunities to share their passions and talents with kids. This is so important in building relationships," says Eamor.
Unified Sports for All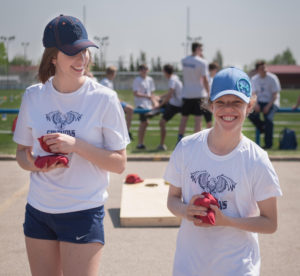 Last year, the school put together a team of 12 students to compete in the Special Olympics Unified Sports at Bev Facey High School. Unified Sports brings together high school students with and without intellectual disabilities to train and compete on the same sports team. Teams are made up of athletes (students with disabilities) and partners (students without disabilities).
Eamor says, "It was such a great opportunity for our students to show how they support each other and play together."
Barrhead Composite has been invited to host a Unified Sports zone event this year—stay tuned.
High School Programs
High School completion is a huge priority and the staff work very hard to offer a wide variety of Career and Technology Studies (CTS) classes including Business & Information Technology, Communication Technology, Construction, Cosmetology & Esthetics, Fabrication, Mechanics and Foods. Thanks to passionate and committed teachers, students over the years have had the opportunity to represent BCHS at Skills Canada.
Raju says, "Our students have received many Skills Canada Provincial and National medals in Hairstyling, Office Software, Workplace Safety, Job Search, Woodworking and Automotives."
Students also have the opportunity to earn high school credits through the Green Certificate Program. Students who live or work on a farm can receive government recognized instruction and credits in cow-calf, dairy, feedlot, sheep, swine, equine, field crop, irrigated crops, greenhouse, and beekeeping.
Students who get an apprenticeship placement during high school may go into the Registered Apprenticeship Program (RAP) where they not only get high school credits, but they start logging hours for their first year of apprenticeship.
Outstanding Fine Arts
Under the direction of some very passionate instructors, the school also offers some exceptional Fine Arts courses such as Drama, Band and Art. The school hosts plays, band concerts and art shows throughout the year to showcase the passion and talent within the school community.
"We attract large crowds to our evening drama play performances and our drama students really shine at our zone Drama Festival," says Raju.
The school's main gym is completely filled each year for the school's combination art show and band concert. The school band regularly gives back to the community by participating in the community Remembrance Day ceremony, as well as performances for seniors and local businesses. Student artwork can also be seen in the halls and throughout the community.
Student Success
Barrhead Composite High School has some of the most talented and skilled teachers in the province. In fact, students who have left to pursue other educational options often return because of the quality instruction they receive here. This is largely due to tremendous teachers and committed support staff.
The success is also in their results—less than 1% of students aged 14-18 'drop out' compared to the provincial average of 2.6%. The High School completion rate is also very good—90% of BCHS students graduate within 3 years compared to the provincial average of 78.4%.
There's always so much on the go at BCHS—and none of it would be possible without the staff who go above and beyond. Eamor says, "We are extremely proud of our school, our students and our staff. We truly believe that a better school helps build better communities."