Our schools have traditionally held many events throughout the year to raise money, collect food and toys and give back to their communities, local charities and for good causes. Here is a snapshot of some of these caring and sharing initiatives taking place in our division:
Students at Dunstable School collected items for their Tree of Warmth. They also held their annual Stuff-a-Stocking campaign to collect toys and small stocking stuffers for FCSS.
École Westlock Elementary School students and staff have been collecting toiletries that will be donated to FCSS.
Fort Assiniboine School students have enjoyed carolling, and a turkey Christmas dinner, thanks to the turkeys donated by Peter Kuelken, Woodlands County Councillor.
Neerlandia Public Christian School collected donations at their Christmas concert. They were able to raise $712 for Barrhead Victim Services.
Students at Pembina North Community School (PNCS) held a Toonie Drive for the Westlock and District Food Bank in October, raising a whopping $4727.85. As an added challenge, the top three contributing classes got to Pie-a-Teacher on October 31.
In November, Kerry Vanderwekken's Grade 3 Social Studies class at PNCS learned about unequal access to public services around the world. The young students had a "lightbulb moment" when they connected this lesson to the fact that many families in their own community struggle to provide for their kids. They did some research and chose to donate Christmas gifts and funds to the Westlock FCSS Christmas Spirit Program. The students were excited to practice generosity and do their part to make sure more kids in their community got gifts for Christmas.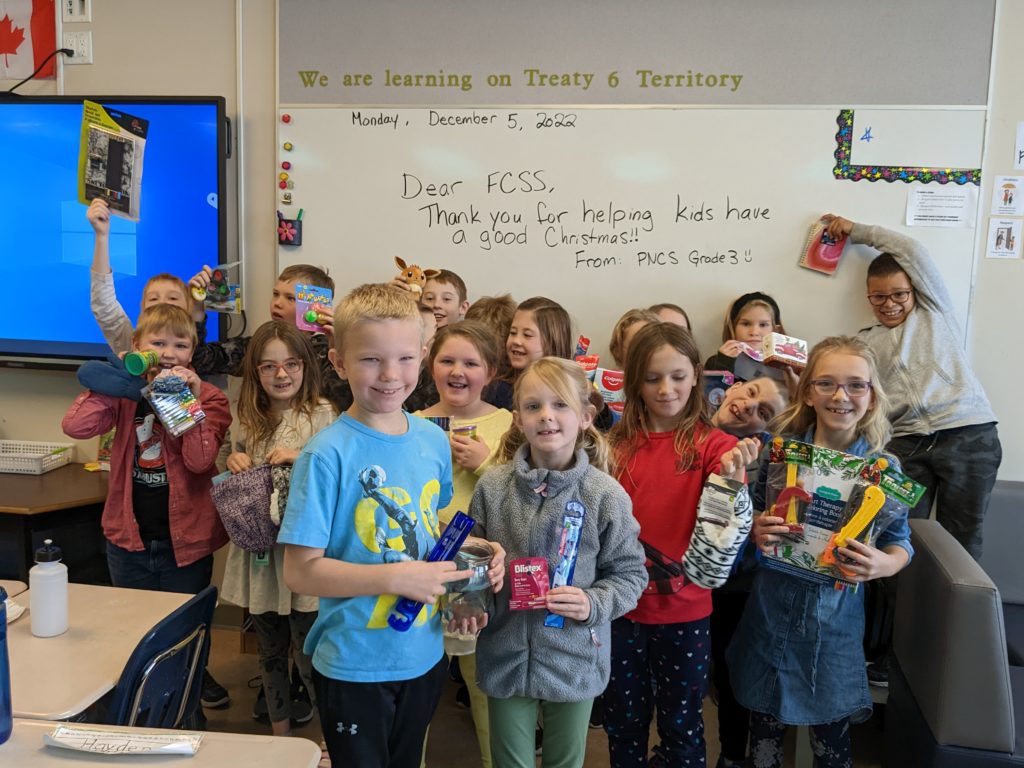 Regional Office staff sponsored a local family through the Barrhead FCSS Adopt-a-Family. With more than $880 in donations, they were able to provide gifts and food for their family. The presents and food hamper were delivered to Barrhead FCSS on December 12.
Swan Hills School volunteer staff members went door to door on Thursday, December 15, collecting items for their Stuff-a-bus campaign. They filled every seat on the bus, in turn filling the Food Bank shelves.
Vista Virtual School collected items for their food drive and for their Stuff-A-Pooch Pad Campaign.
Terry Fox Run
We shared in October how Pembina Hills students collectively raised nearly $14,000 in September 2022 for the Terry Fox Foundation during the many Terry Fox Run/Walk events that took place.
Updated 2023-Jan-09