We are excited to announce that the Busby School Gym project will break ground at the end of August 2021! 
The project includes a new 486 square metre gymnasium and 27 square metre commercial kitchen, which is the same size as those areas at Neerlandia Public Christian School (K-9 school with 250 students). For another comparison, the Barrhead Elementary School kitchen is 29 square metres. Busby School's current gymnasium (186 square metres ) will be modernized to be used as a music room/classroom/multi-purpose room. This will also allow the K-6 school to have stand alone classrooms should enrollment increase. The new gym will be attached to the school and there will be additional space for a coat room, two washrooms and a storage room. The exterior of the school will also be updated, and the school plans to use some of their reserves to add a bouldering (rock climbing) wall on the outside of the gymnasium.
The overall total area of the additional and modernized space will be 738.99 square metres. It will take a year to complete the full project. View the Busby School blueprint (PDF)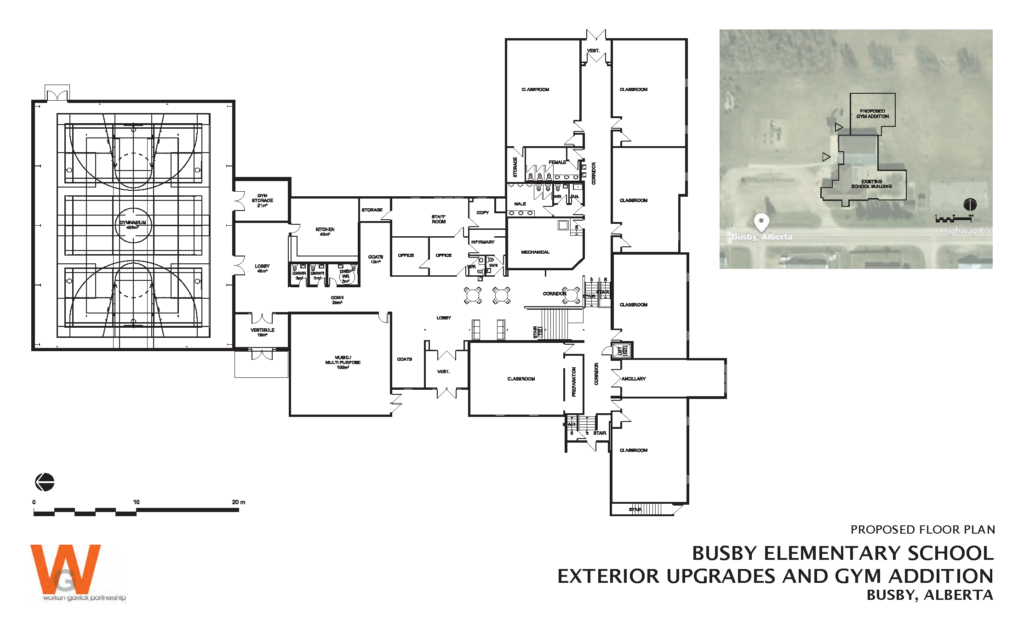 A new gymnasium at Busby School has been a long awaited priority for the Board of Trustees. In order to accomplish this project the board has received approval from Alberta Education to use Pembina Hills' Capital Maintenance and Renewal / Infrastructure Maintenance and Renewal Funding for the needs of the school. It is expected to cost $1.7 million dollars as the cost of materials have gone up significantly over the last year. Completing this project within the year will allow our students access to a proper gymnasium space and provide the community with access to a great facility.
For community access to the building, individuals are asked to contact the Busby School office. To determine the rental or booking of the school for functions and what can be brought in please see the following administrative procedures:
We look forward to creating this new space for the students and staff of Busby School, including competitions featuring the Busby Bobcats, as well as welcoming use by the greater community!