PowerSchool for parents
Pembina Hills uses PowerSchool to record important information about our students. Through your parent account, you can:
View your child's attendance records
Pay fees
Complete and sign forms
Parents of junior and senior high students will also see:
Grades
Assignments
Teacher comments
If you have never used PowerSchool before, you will need to create your parent account. You can also visit this page for help.
Note – You do not not need to create a new account every year. Your parent PowerSchool account remains in effect from year to year and will be active for as long as you have children attending school.
If you have questions, contact your school office or send an email to schoolfees@pembinahills.ca.
Creating your parent account
In order to create your account, you will need the Web ID letter from your child's school office. This letter contains your child's unique access ID and password.
Parents/guardians will need to create their own username and password. Note: The access ID and password on your child's letter is only used to 'link' your child to your account. If you have not received this or are having problems logging in or creating your account, please contact your school office.
How to create your parent account
Go to https://powerschool.pembinahills.ca/public.
Click on the Create Account button. You will see this screen.
Enter your first and last name.
Enter your email address; this is the email address to which all notices from the school are sent.
Enter a username of your choice, it MUST NOT contain a space, hyphen or special character.
Enter a password. As you type your password, PowerSchool determines the strength of the password and you have a visual display of the strength from weak, to better to strong. The stronger the password, the more secure it is. Choose a password that you can remember but that is difficult for others to guess. IMPORTANT!! Your password MUST be at least EIGHT (8) characters in length
Link your children to your account
You can add up to 7 children to your account. This may include your own children, foster children or any child under your guardianship.
Enter the name of your children you wish to have access to on a separate line.
Enter the Access ID for each child, as per the letter from their school.
Enter the Access Password for each child, as per the letter from their school.
Select from the list, your relationship to the child (e.g., "Mother, natural/adoptive").
When you are finished, be sure to click Enter at the bottom of the page.
Verify your account
You will receive an email to verify your new account. Simply click on the link in the email, which will return you to the login screen.
Login to the parent portal
At the Student and Parent Sign in screen, enter your username and password into the appropriate fields and click the 'Sign In' button.
Adding a student
If you already have a PowerSchool parent account and need to add a new student:
Click "Account Preferences" in the main menu
Click the "Students" tab
Click the "Add" button
NOTE – You cannot add students in the app. It must be done on a computer.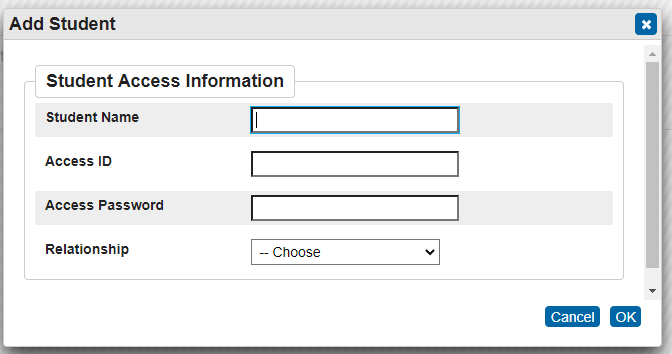 Download the PowerSchool App
You can also view your child's attendance, classes and schedule on the PowerSchool Mobile app. However, the app does not have the same functionality as the desktop version. For example, on the app you cannot:
Pay fees and sign permission forms
Add new students to your parent account
Download the PowerSchool Mobile on the App store or Google Play.
Note – you must create your parent account on a computer before you can use the app.
To sign into the App you will need to enter your login credentials and the District Code: MSJP
Accessing Fees and Forms
Pembina Hills families can now pay for school fees and sign permission forms through PowerSchool.
Note – We are no longer using School Cash Online – do not sign in or use old bookmarks to access School Cash Online.  
On a computer
Sign in to your PowerSchool account.

Click on School Fees and Forms in the bottom left menu.
On a smartphone
NOTE – Fees and Forms cannot be accessed through the app.

You must sign in to your PowerSchool account on a on browser (Google, Safari, etc).

Expand the menu by clicking the small arrow in the upper left corner.
Click on School Fees and Forms in the bottom left menu.
Paying fees online
After you sign into PowerSchool and click on School Fees and Forms:
A new window will open – https://www.studentquickpay.com/phsd/MyAccount/Main.aspx
You will see a summary for your children and any amounts owing
Click on your child's first name at the top of the page to see items specific to each child:

New items (includes mandatory forms and optional fees)
Due Now
Future Charges
Paid
Completed Forms
Mandatory Fees
All mandatory fees will show up on the first page. They are automatically added to your cart. You can remove them if you don't want to pay them at this time. Simply uncheck the box.
Optional Fees
Optional fees are listed under New Items on the page. Here's an example:

Select the fee you wish to pay, and then click "Add to Cart."
This will add the fee to your cart. But, you still need to open the cart to complete the payment details.
Confirmation Email
You should receive an email confirmation of any fees you pay online. You can also see the list of fees you have paid.
Completing forms online
Completing and Submitting forms
Forms are listed under New Items in your account.
Select the form you wish to complete, and then click "Add to Cart."
This will add the form(s) to your cart but, you still need to submit them by clicking on the cart. Any mandatory fees will also automatically be in your Cart. If you wish to submit only the forms, you can remove the fees from your Cart and then proceed.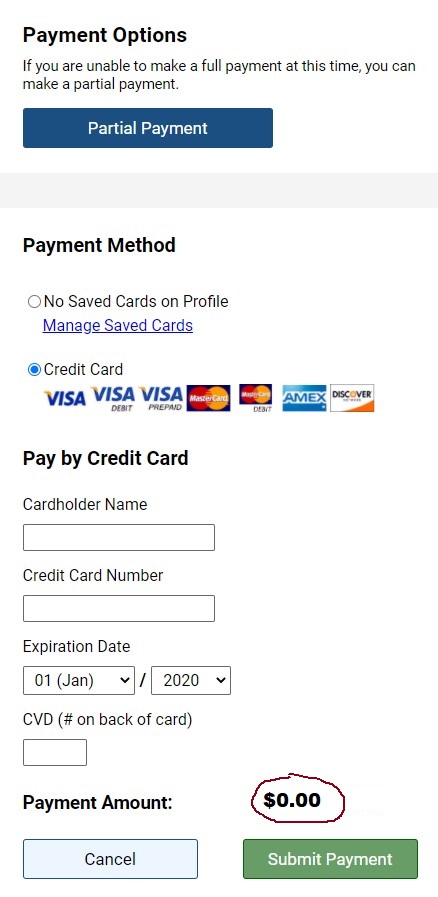 Confirmation Email
You should receive an email confirmation of any forms you complete. You can also view Completed Forms on your dashboard after they have been submitted.