This year we are publishing a series of stories about our schools. Read them all here.
For many local families, the Pembina Hills Early Learning program is often the first step in their child's learning journey. The program began over 20 years ago with just one location. Now operating in six community schools throughout the division, approximately 100 children attend these Early Learning programs. Guided by the motto "We are MIGHTY learners", programming is designed to support children who have complex needs and require extra help learning the skills to prepare for Kindergarten and beyond.
Early Learning offers a language-rich, play-based setting where children with identified needs receive small group instruction with the help of 'play partners' and trusted, experienced staff. "Our play partners—children who do not have identified complex needs—are valuable assets to our programs," says Principal Kelly Ferguson."Our goal is to be inclusive; where everyone contributes to and benefits from a valuable learning experience."
Mighty Goals
The fundamental goal of Early Learning is to support children in their early years so that they can achieve success in the years to come. Ferguson says, "We are very collaborative and work together to do what is best for our young learners. We identify children requiring support, many of whom have IPPs (Individual Program Plans)."
Early intervention is the way to give children the best start in their educational journey. Staff have formed partnerships with various community resources to help support families with early intervention or with their early learning needs.
Mighty Teams
Each program is designed and developed by a team of people including a teacher, program assistants, a speech language pathologist, a behaviour specialist and an occupational therapist. These teams work together to first identify children requiring support and then build plans to support their needs. "The goal is to meet each child's individual needs—our ability to work together makes our teams that much stronger," says teacher Sharon Lyons.
Every program has a dynamic that is unique to them. Staff are skilled at delivering programming that meets the children's interests and areas of need in a fun and meaningful way. Teacher Gloria Victoor says, "We can tell that each person who works in our Early Learning team is truly committed to helping children learn and grow."
Program Assistants are essential to the success in Early Learning growth. They are eager to engage, get on the floor and participate in messy play for optimal hands-on learning experiences. With their exceptional knowledge of who the children are and their needs, they seamlessly find ways to modify or accommodate for all children to be successful.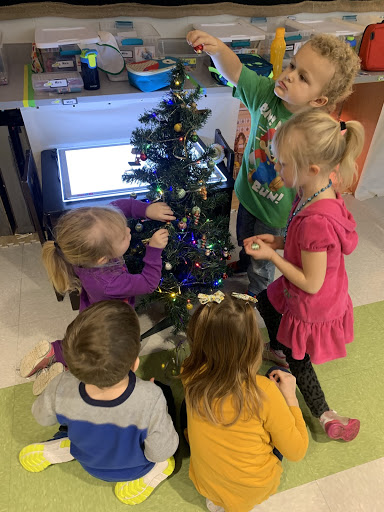 Mighty Families
Partnering and connecting with families is necessary for success in our programs. The home-to-school contact is strong, this was evident in our success with virtual learning through COVID. Significant value exists from connecting home and school. "Our parent support group, Parents of Dynamic Children (PODC) is one way we bridge supports, with a monthly focus on strategies to align home and school. Additionally, we always strive to create open lines of communication with our families and this is a priority at the very beginning of the school year. We're all members of the team and working towards the common goal of what's best for each child," says Ferguson
The teachers have unique roles as they also work with external agencies to find and support the children. "We help parents navigate the process – whether it involves completing assessments, or helping connect families with FSCD or other community supports," says teacher Sharon Lyons.
Mighty Programs
Recent changes to the funding model have changed programming dramatically and have brought forth challenges. Ferguson says, "Our strong teams allow us to be flexible and navigate creatively while still supporting the children in our programs and communities." Programs are now well known in each community, as they have evolved and grown over the years. There is power in our past family community support; especially from those whose stories of success are essential to share. Celebrating growth of former students encourages new families as they enter the education and early learning world.
Mighty Connections
Like other school-based programs, Early Learning staff are rewarded when children experience success and are able to achieve their goals. Ferguson concludes by saying, "We strive to support our young learners' growth and development to give them the best start in the school setting. We really hope to see this program continue for many years to come."